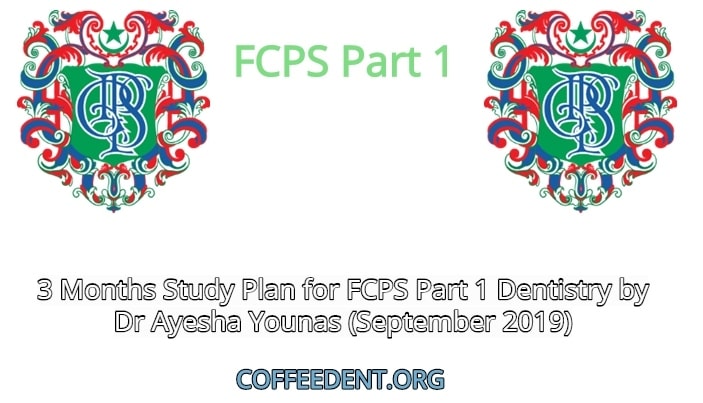 Today we will share you 3 Months study Plan which is shared by Dr Ayesha Younas.
Study plan is of 3 months
I started with *Anatomy*.. 15 days
Head n neck (snell + NBDE 1) 5 Days
Neuroanatomy (kaplan) 5 days
Histo ( NBDE 1)  2 days
Embryo (high yield + first aid tables) 3 days
I did thorax with head n neck. Rabia ali Mcqs side by side. Sath sath kren tou best hy. Coffeedent mcqs bhi sath he key thy meny
*Physiology*. 20 days
I tried to do integrated study. BRS + FIRST AID. FA sy patho and pharma sath sath kren tou ziada theek hota hy.
I did blood from guyton..
Rabia ali chap wise kren.. If you are doing a chap in 2 days tou 3rd day rabia ali n coffeedent kren.
*Pathology* 6 days (because special patho physio k sath he kr li the meny)
BRS patho. 1st 8 chapters in 4 days
2 days for micro. NBDE 1 ki micro is more than enough
*Pharmacology* 5 days (systems ki phly kr li the with physio)
FIRST AID. KAPLAN.
i did General pharma from FA+ 2nd yr lectures
ANS – – – > FA
CNS +anti microbials + CVS – – – > FA
LA GA – – – > kaplan
Last day i did rabia ali mcqs and coffeedent
*Biochemistry*  4 days
FIRST AID
I followed dr armeena shah's notes. She has marked important points in FA. Available in her group FCPS-1 help
PLUS there is a post of important points in fcps2005-10 group.. That was too helping
*Dental materials* 4 days
I did VJ pratab+  McCabe k 12th edition men start men mcqs hn with explanation wo kr len vj krny sy phly tou thori bht 2nd yr ki chezen parhi hoe yad aa jati hn.
Also i did dentogist. Please uski explanations parhen. 7th edition men bht mistakes hn. Explanation men sahi answers likhy hoty hn.
I did Coffeedent sath sath.
*Oral Bio OP OM* 5 days (including eid days)
NBDE 1 + dentogist + coffeedent
Now i left with 1 month. So i started doing MCQs on 15th August
Rabia Ali 7 days. 1000 mcqs/day
Jahangir khan 5 days.
Asim n shoaib + dentogist 6 days
2nd revision
VJ 1 DAY
Jahangir khan 2 days
Pharma 2 days. 1 day theory. 2nd day rabia ali mcqs
Patho 2 days.. 1 day theory. 2nd day rabia alimcqs
Physio 3 days… 2 days theory 3rd day rabia ali mcqs
Anatomy 3 days… 2 days theory 3rd day rabia ali mcqs
2nd last day before exam. Asim and shoaib.
Last day 16th. Coffeedent all mock tests. And grand mock tests. + revision of notes i made during study + feb and april 2019 papers.
One last thing please start using search bar. For all basic subjects common for medicine n dentistry i used search bar of fcps 2005-2010 group. Only ask those questions you dont find through search bar. Bcz jo search k parha jata hy hamesha yad rehta hy.. DM OB OP OM kly fcps dentistry group is best…
I hope i explained everything..
Wish you best of luck
Dr. Ayesha Younas