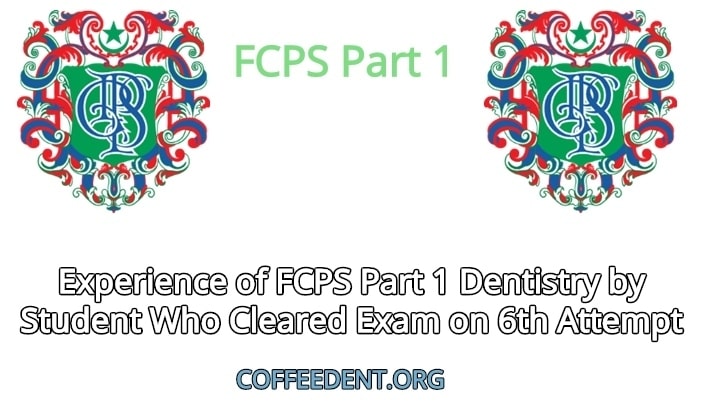 I have passed part 1 November 2019 attempt. It was my sixth attempt to reach my destination and now ALLHAMDULILLAH i got residency as well right after passing my exam.
I want to tell all my juniors never ever loose hope, kyu k mayusi kufr hai. ALLAH PAK apko apki mehnat ka phal zaror zaror zaror dengy.  I started study for FCPS in my house job and i am one of the top 10 students in our class. Jab mne parhna start kea to mujhe dekh kr mere fellows ny bhi parhna start kia and jb hm first attempt mai appear hue, mere kch frnds ka exam clear hogaya. phr second attempt mai kch ka or phir 3rd attempt mai sbka clear hogaya.
Kbi kbi ap bhot mehnat krty hain or phir bhi apko uska result nahi milta. Duaen mangty hain pr apko lagta hai qubool nahi hoti or phir ek maqam aata hai k ap haath uthaty hain apk ansu nikalty rehty hain pr ap mu se kch nahi mangty, kio k apko pta hota hai ky jo app mang rae hain wo apk RAB ko pata hai. So mne 4th attempt dea but again i failed. Phir 5th , then. mne socha k nahi part 1 shayad mere leay nahi hai. Mere juniors jino n mjh se help li thi for exam wo bhi pass hoty gae and they got residencies also.
Mai daily dua mangta parhta depression m bhi jata. pr some how manage krk parhna start krta. Then mne ek attempt mai break lea or again mne parhna start kia with my study partner she helped me alot, ALLAH PAk unko jaza e kher den. Abki baar mne for BCQs i'l follow JK Book, coffedent, Asim and shoaib, Rabia ali, Dentigist and rafiullah fast aid for theory. Theory mai already kafi bar parh chuka tha, is baar mne strictly JK, Asim, coffedent ko follow kia. Or sath mai job bhi krta raha. Pr last month i quit the job and full concentration k sath 18 hours daily studies ko deay.
Yahan pr mai ek cheez add kringa k plz plz last 15 days or month full time study kren, keo k srf kch log hain jo job k sath exam clear krlety hain. hr ek alag mindset k sath prhta hai pr apko goals set krne prty hain kch bhi zindagi mai acheive krne K leay. So plz jobs or prhai ko mixup mat kren. kuch pany k leay lazmi you have to sacrifice. So i passed and got FCPS 2 residency easily. Ek or point never ever think ky part 1 k bad residency nahi milti, Apk naseeb ka apko milkr hi rehta hai. bs be focus. ALLAH PAK se mangty rahyn , tahajjud ne main role ada kea is pore journey mai.
ALHAMDULILLAH I AM HAPPY now and good luck all of you, never ever loose hope, be focus be consistent.
Stay blessed..!!!