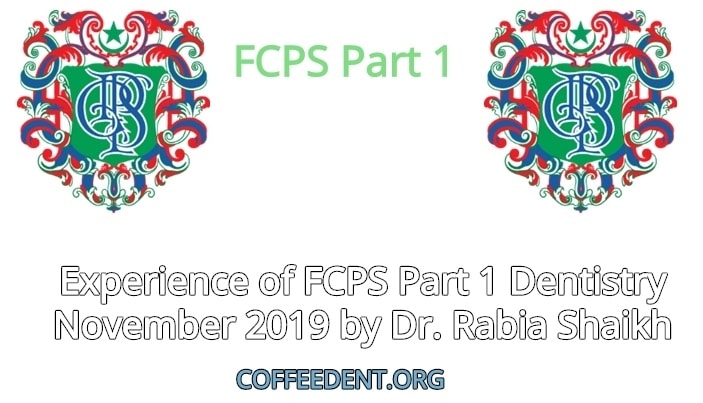 I'm glad to announce that I have passed the exam of FCPS-1 in Dentistry by the grace of Almighty. The journey has been short but was never easy but the results have turned out my future endeavors to stay evergreen. I feel motivated and decided to share my experience to provide a handful of information that could help others because FCPS Preparation can become a daunting task especially for the first time.
The first and foremost thing to start with is the Time Management for preparation which is highly variable and it is solely up-to you. I believe 2-3 months are adequate with proper concentration. I started preparing 4 months prior to attempt but I could only managed to study for 3 consecutive months.
All these months I had a chance to follow below mentioned books:
– Snell's REVIEW ANATOMY or NBDE (depends on your taste)
– BRS Physiology
– BRS Pathology
– USMLE First Aid
These are the core books for theory. Pick few books but do them well. Don't indulge yourself in too many books. Because this examination requires smart study
Books for MCQs include:
-JAHANGIR KHAN or coffedent online course (Depends on you).
I opted for the book which is most important to cover all the past papers. Plus high yield points in the end. It also has Dm bcqs from VJ Pratab. One can do as many times as he/she wants to retain it. I started doing jk at the end of 1st month of my preparation along with the theory.
-ASIM & SHOAIB Dentistry:
This needs to be solved with proper concept you cannot simply memorize the bcqs. Also don't alter the key too much. Follow key for the controversial BCQs.
-RABIA ALI bcqs:
I solved BCQs from all the sections except thorax, limbs and biostatistics. Only did Anatomy of HEART. Also u can cover some topics like joints, Neuroanatomy, special pathology from the notes in the book and solve the BCQs afterwards.
-VIJAY PRATAB for DM.
So before you start studying, make your own schedule considering the time you can spend on studying in a day. Then set your goals accordingly, because what works for them might not work for you. But study hard and smart.
I started preparing this way.
-Physiology: BRS whole with MCQs from Rabia Ali at the end of each chapter.
-Pathology:
-Gen Patho: BRS 1 to 8 chapters along with Rabia Ali MCQs.
-Special Patho: Rabia Ali BCQs plus notes given at the start of each chapter I found them really helpful.
-Anatomy: Smells review along with MCQs from Rabia Ali.
*USMLE first aid:
This is by far the most important book. I highly recommend this.
You can do as much as you can but what I covered from it was
-Pharmacology (along with RABIA ALI BCQs at least 2 times)
-Hematology section as it's not in BRS
-Biochemistry (only imp topics like vitamins and amino acids etc.)
-Embryology
-Microbiology:
(I just gave a superficial read to important organisms but RABIA ALI MCQs are more than enough. I suggest u not to give more than a single day to it as there was only a single BCQ in my paper.)
-Neuro (I didn't study Kaplan for neuro just did few imp topics from 1st aid.)
-Histology (studied types of epithelium from some notes and BCQs from RABIA ALI)
-DENTAL SUBJECTS.
Solved BCQs from RABIA Ali, JK and Vijay Pratab.
These are the books and strategy I followed and Alhamdulillah cleared in first attempt. You can follow or add any book you want but these are the core books that I would highly recommend. Everyone has different way of studying so do whatever suits you best.
The last but the most important factor which is going to help in clearing your exam is your firm faith in Allah that HE will always do best in your favor and your firm belief that HE will reward you for your hard work. So keep praying and hope for the best.
Good luck and remember me in your prayers.
Regards,
DR. RABIA SHAIKH!