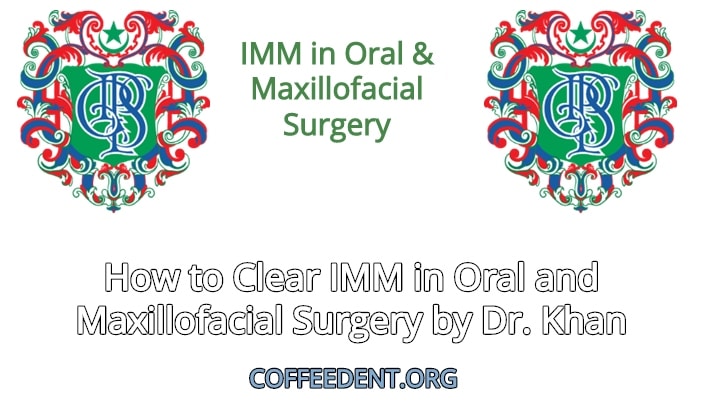 Today in this post we will share you experience of Dr. Khan who Passed exam in this attempt of January 2020. We are thankful to Dr. Khan for these Guidelines.
I would like to thank ALLAH ALMIGHTY for making it possible for me to clear this exam Alhumdulillah.
Books for Theory:
You must have full grip over the theory and mcqs in order to clear this exam. For theory you need to study either Neville or Regezi to cover the Oral and maxillofacial pathology. You must have a firm grip over tucker and Peter banks for other topics related to surgery and trauma.
MCQs Books:
You will need to do only Coffeedent IMM Course (Online) because it will cover all MCQs and Past Papers for your Exam, so no need to do any other MCQs Book.  
When To Start your Prep?
You should start your preparation at least 4-5 months before exam and start doing coffeedent MCQs along with your theory and other MCQ books. Trust ALLAH and believe in yourself and you will definitely succeed INSHAA'ALLAH. Hope all this guidance helps you all clear this exam. All the very best to everyone!
TOACS Prep: 
For toacs you must memorize each and every case that comes to your department. Trauma, tmj , pathology, suturing all are equally important. Examine each and every case carefully try to pick the key feature of each case and INSHAA'ALLAH you will see it will definitely make your preparation easy. Do learn how to place eyelet and arch bears, do remember the names and uses of each maxillofacial instrument there is always a station of suturing and instruments in toacs. Hope this all outline is enough for you people to clear the exam INSHAA'ALLAH TAA'ALA. All the best