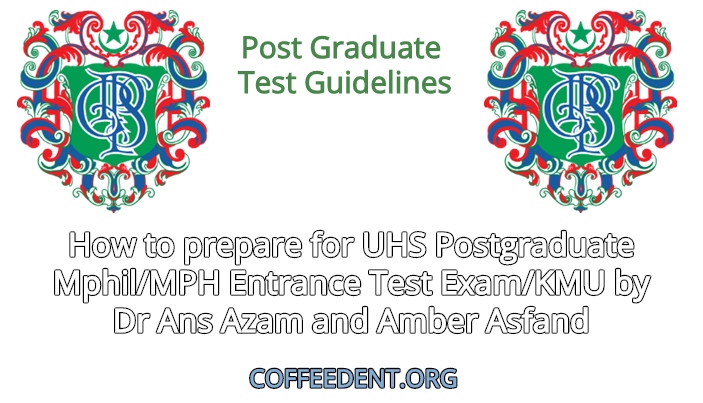 It is usually conducted in the month of November / December. Applications are online i.e. you need to fill the form after submitting the fee of 1000 (challan/draft).
Paper: Following is the test pattern:
English : 40 MCQs
Computer / I.T skills: 15 MCQs
Research Methodology: 15 MCQs
Analytical Reasoning : 30 MCQs
For Preparation /practice of Postgraduate Entrance Test of UHS
👉There is no as such syllabus /course outline for Entrance test
👉So anything you prepare is just for practice
👉FOR ENGLISH and ANALYTICAL REASONING
There is a Book name "GAT general " you can practice that book for Preparation (only English and Analytical reasoning portion in that book)
👉FOR COMPUTER / IT SKILLSYou just have the basic knowledge of computer functions there abbreviations and short-cut keys (ctrl +P= print, etc), Microsoft excel, PowerPoint,
👉FOR RESEARCH METHODOLOGY
Go through any lecture regarding research and planning available on internet
You should know basics like research definition, components, steps, Types of Research, how to conduct research etc
👉Paper is not that tough 50% is passing
👉1 week is enough for Preparation / Practice
NEXT STEP AFTER PG ENTRANCE TEST:
Those who have appeared in the Test are eligible to Apply,
You have to Apply separately for PGMI and UHS
👉FOR PGMI:
You have to fill seperate form for each subject, like if you are applying in 3 subjects you have to fill 3 separate forms along with separate admission fee 😁
In PGMI you cant apply in medical sciences subject only dental sciences
👉FOR UHS
In one form there are 3 options available you can apply in 3 different subjects medical and dental both no barrier
👉They will short list candidates for interview call and lists will be uploaded on sites as usual
👉After interview again selected candidates list will be uploaded on sites
👉Weightage
Test 10%
Academics 50%
Interview 40%
So those who secured 50 or near must apply don't skip the chance as test weightage is 10%
For KMU: 
For entry test you have to do BRS specially physiology and baqi test main 10 questions are of general type.
Result is announced after almost 2 hours and interview is conducted at the same day.