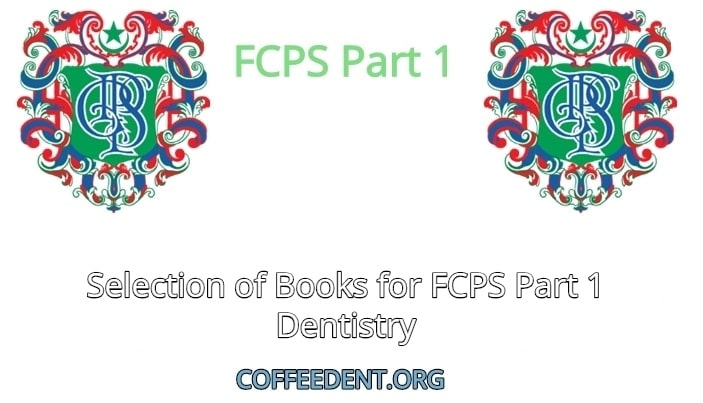 Selection of Books for FCPS Part 1 Dentistry
For preparing any sort of exam, selection of  Books is a very important step. With out proper Books, it is impossible to pass any exam. The same rule is applied for FCPS Part 1 as well. If you spend a whole year on a single book or the books which are not important, you can not clear the exam and you will waste precious time. By selecting proper Books you can save his/her time as well as money.
There are so many books available in market by different names, but most important thing is that from which book you can pick the concept, from which book you can understand easily? If you are using a book which is too much congested (by congested i mean the book which has only main points or summaries) it will be difficult for the you to pick the concept with out going through details of those "main" Points or summaries. So for the books which have only "main" Points or summaries you have to go through the books which have good details of those points.
There are so many students who follow their fellows who have cleared the same exam for which he/she is preparing, and they use the same sets of Books used by their fellows but still they can not get the same benefit taken by their fellows. The reason is that every one has his/her own different capabilities, IQ level and the basic knowledge. If a student who is weak in his/her basic knowledge, has low IQ level and  has not performed well at his/her College time will definitely face problems by using the same Books which were used by their fellows who are much sharper, have more strong basic knowledge and have IQ level more than that student. So always keep in your mind to use the books which suits you better than any one else. You should use the books at which you are more comfortable.
Students who are preparing for FCPS Part 1 in Dentistry should have different sets of books than the fellows who are preparing for FCPS Part 1 in Medicine/any other specialty. I will suggest the following Books for the students who are preparing  for FCPS Part 1 in Dentistry.
NBDE first Aid is much more important like USMLE First Aid for dentistry students, because it contains all studies which are important for dentistry students. It relates medicine to dentistry, pathology to dentistry, anatomy to dentistry, physiology to dentistry, Pharmacology to dentistry and of course it covers the basic knowledge of Dentistry. USMLE First Aid should also be done along with NBDE First Aid.
Anatomy:
For anatomy first choice should be NBDE first aid Part 1.
The rest you can use Snell for Head & Neck, Kaplan for Neuroanatomy.
Physiology and Biochemistry:
NBDE first Aid Part 1 and USMLE First Aid.
The rest you can use BRS or Kaplan
Pathology:
NBDE first Aid Part 1 and USMLE First Aid.
BRS or Goljan Pathology
Pharmacology:
From NBDE First Aid Part ll and USMLE First Aid.
BRS, Kaplan or Lippincot.
Oral Pathology:
NBDE First Aid part ll.
Cawson, Soams or Nevvile
Oral Anatomy, Morphology, Histology:
NBDE First Aid Part 1
or TenCate and fuller
Dental Materials:
McCabe is usually a good book for it.