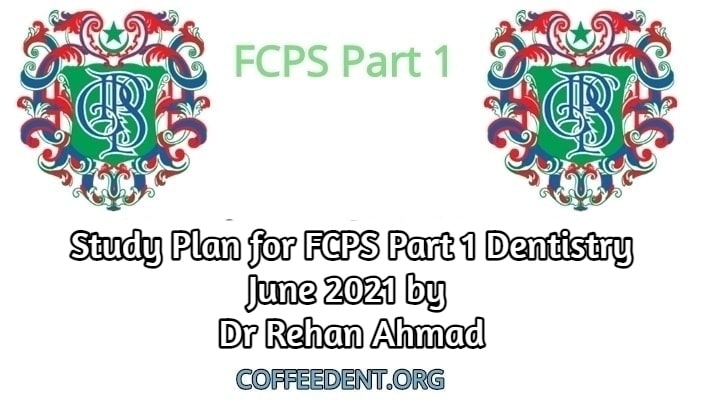 Assalam o Alaikum
FCPS 1 (2021 May/June Attempt)
I started my FCPS-I preparation in NOV 2020 and opted for FEB 2021 Attempt. Followed the following books and tried to cover all of them,
Theory Books
USMLE First Aid
BRS Physiology
BRS Pathology
Snell's Review
Kaplan Neuroanatomy
High Yield Embryology
MCQ Books
Coffeedent (I was unable to revise)
Asim & Shoaib Dentistry
JK Pastpapers
Vijay Pratap
Rafiullah (Only GOLDEN FILES)
SK 9 + 10 (PDF)
SK & Eshaa Notes Book
ARA Dentistry BCQ Book
I did cover all the theory and BCQs but had sever revision issues as I was overburdening myself with so many books to cover. More-over as I was short of time so I didn't clear my queries as such.  So unfortunately, I wasn't able to make up in that attempt.
The Real Plan
It was 1st week of march when I re-evaluated my strategy and read all the reviews and study plans of people who previously cleared FCPS in last 2 years. What I found was one thing common, they all stick to minimum BCQs books and kept revising the same. Following were the BCQ books everyone recommended:
Coffeedent                             (a must must do thing as it has BCQs from other books as well which every aspirant need to cover PLUS no need to worry about the past papers. Coffeedent has Most of the questions which are repeated in exam.)
Rabia Ali                                 (Most of seniors recommend doing theory along with BCQs and this book is the best in that aspect. It has very high yield theory given for all the aspects of exam.)
Asim & Shoaib                       (It's a Small and comprehensive BCQ book. It has BCQs from most of the important topics. Key to A&S is that one must learn to solve its questions and understand the theory behind each one. In exam I've seen that the questions which are asked are either the same or are the sequelae of the its questions)
As all of us know that CPSP has now shifted to new category c type questions and it has been heard that they will continue to make new and tougher ones in the future. So, from my point of view an aspirant must opt for understanding the theory and concept behind every important topic. If you know your all four years of BDS well, you will definitely find FCPS-I comparatively easy and will need lesser time for preparation for it.
Message for aspirants
Every one is different and required different amount of time for preparation please don't fall into the trap of people who say 3 months or 6 months etc are enough for preparation. Instead, my advice would be to make yourself a customized plan and stick to it.
And lastly, beside every effort you put in preparing yourself for the exam, there is a large part of your luck and prayers in CLEARING the exam. So, pray a lot. Allah Ta'Alla will surely grant you with success.
Thank you and Best of Luck Guys
May Allah Ta'Alla brings ease and success to every one of you.
Ameen!